Is there still a role for IT analysts?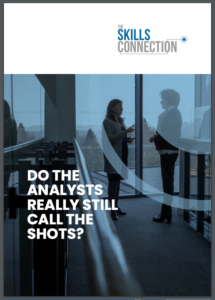 In these days of online peer reviews and social media, increasingly enterprise IT review sites like TrustRadius & G2 are changing how buyers research vendors.
So, do the analysts still influence where the money goes?
In this paper, we discuss if IT analysts, from firms like Gartner and Forrester, really still call the shots.
Discover more
Andrea Thomas
2023-03-16T10:50:55+00:00
Getting key analysts to have sufficient confidence (in your business, products and services) to recommend you to their clients is difficult. It takes concerted effort, appropriate preparation and relevant executive engagement if you are to get it right and get the right result. But the reality is most companies get it wrong and get truly disappointing results. Find out the 10 things NOT to do in this white paper.
About us
We are a team of former senior Gartner analysts and executives who offer our knowledge and expertise to help technology companies improve their relationships with the analyst community and better engage with the market.
Knowledge Bank
If you'd like to find out more, please head to our Knowledge Bank, where there are more on-demand webinars, as well as many other best practice videos and white papers. We do ask you to share your name and email address to access this content but, per our privacy policy, we promise this will not end up with you receiving a bombardment of email.
"Excellent insight into the analyst world. Solid, no-nonsense advice" 
CEO